Dance your best by taking ballroom dance classes in
West Des Moines.
We give you the opportunity to dance and learn.
---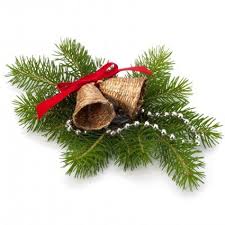 Christmas Gift Certificates Available
Give your special someone the gift of dance. We will produce a gift certificate with Christmas highlights on heavy duty card stock to present at Christmas time. You can purchase a gift certificate of any value to be used toward group or private lessons. Click on the Gift Certificate button at the bottom of the list and fill out the form and send to us.
---
Give the Gift that Lasts Forever...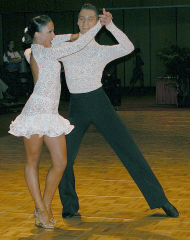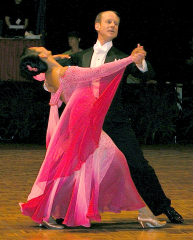 ...to yourself or to someone you love
In the midst of your busy life take time to dance. Forget about life's worries for an hour or two and relieve
the stress of work and everyday life.

Dancing is a fun activity for all ages and all occasions.

Fill the Gap! Dancing fills social, mental, and physical gaps. Select the dance style that fits your personality.
Smooth, Rhythm, International, Salsa, Swing, Polka, or country style of dances.
Awaken your leisure time with enhanced fun dance skills for weddings, cruises, proms, pro/am or
am/am competitions, social events, holidays, class or family reunions.
---
Click here for a great article on amateur and professional dancers.
---
Ballroom Dance, as may be obviously seen, is done by couples. Our classes are oriented toward couples and we do not require couples to rotate. We do accept singles in the class with the understanding that they will get less dance time than those who come with a partner. In past times, people went to dances and the etiquette was to dance with whoever asked. Today, most people go to dances to dance with their partner and not to dance with lots of other people. It is your choice with whom you dance and we respect that.
We believe in providing the best teaching for Des Moines ballroom dance classes giving students good value for their money and an academic approach to teaching ballroom dance. We have been trained by top professionals throughout the United States including over 10 different Professional national champions and have also trained with two teachers rated in the top 5 dancers in the world.
---
Rise to meet each day ~ not all work ~ add a dash of play.
Call 515.865.6043 for more information
Copyright © 2005, Des Moines Dance. All rights reserved.